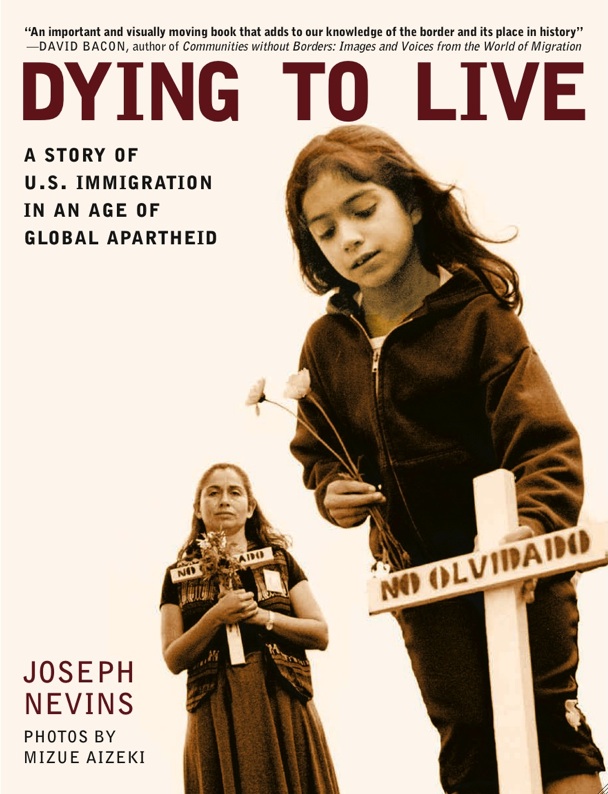 DYING TO LIVE
A Story of U.S. Immigration in an Age of Global Apartheid
By Joseph Nevins
With photographs by Mizue Aizeki
City Lights (May 2008, world English rights)
Paper • ISBN-13: 9780872864863 • US $16.96 • 225 pgs.
ABOUT THE BOOK:
A compelling account of U.S. immigration and border enforcement told through the journey of one man who perished in California's Imperial Valley while trying to reunite with his wife and child in Los Angeles. At a time when Republicans and Democrats alike embrace increasingly militaristic border enforcement policies under the guise of security, and local governments around the country are taking matters into their own hands, Dying to Live offers a timely challenge to such prescriptions and puts a human face on the rapidly growing crisis. Moreover, it provides a valuable perspective on the historical geography of U.S.-Mexico relations, and immigration and boundary enforcement, illustrating its profound impact on people's lives, and deaths. Joseph Nevins and Mizue Aizeki spent several years working on the book, researching and documenting life in southern California, the U.S.-Mexico borderlands, and central Mexico. In the end, the authors offer a provocative, human-rights-based vision of what must be done to stop the fatalities and injustices endured by migrants and their loved ones.
Dozens of stunning photos by Mizue Aizeki complement the text.
For a sneak preview of some of Aizeki's photos:
Chapter 1: Introduction: The Bodies
http://www.flickr.com/gp/49175434@N00/26Gm58
Chapter 2: The Desert
http://www.flickr.com/gp/49175434@N00/gT3t61
Chapter 3: The Border
http://www.flickr.com/gp/49175434@N00/7w297m
PRAISE:
"In Dying to Live, Joseph Nevins and Mizue Aizeki have produced an important and visually moving book that adds to our knowledge of the border and its place in history. Nevins' painstaking research documents the development of the Imperial Valley — its industrial agriculture, its divided cities, and the chasms between rich and poor, Mexican and anglo, that have marred its growth. Through the valley runs the border, and Nevins' accounts of the growth of border enforcement on the U.S. side, and the racism of its legal justifications, will be a strong weapon for human rights activists. Mizue Aizeki takes her camera and tells the story of Julio Cesar Gallegos, who died in the desert trying to make it across. Her images of the stacked bodies of border crossers held in refrigerator trucks, and the barrenness of the ocotillo cactus on the flat hardpan are eloquent testimony to the terrible risks and human costs imposed on migrants. Her beautifully composed portraits of Gallegos' family make a direct appeal to the heart in a way that words cannot. And her documentation of border protests and immigrant rights demonstrations, including the rows of jugs of water put out in the desert to save lives, are all compelling evidence that there is a struggle going on to halt the human rights crisis she and Nevins document."
David Bacon, author of Communities Without Borders: Images and Voices from the World of Migration
"Joseph Nevins blows the red-neck cover off the right wing engineered scapegoating of "illegal" immigrants by meticulously and grippingly compiling the history of why so many try to come to the US, and, tragically, why so many die. His important work forces us to go beyond the simple debate of legal versus illegal and instead focus on the current government policy that is literally killing thousands. Nevins strikes at our very moral core when he asks: are we a nation that will continue to allow thousands of innocent people to die and do nothing to reverse this grave injustice?"
Deepa Fernandes, author of Targeted, Homeland Security and the Business of Immigration
"A fierce and courageous denunciation of the foul politics of immigration and the two-thousand mile tragedy of the Mexican border, snaking its way between two worlds, two nations, separated at birth but forever joined at the hip. Starting from one man's blackened corpse, the tale wends its way across the desert of racial amnesia to reveal the sources of America's reactionary (and futile) attempt at closure of a porous frontier. Deftly stitching together disparate times and places — from the Imperial Valley to Zacatecas to Mexicali and back to East L.A. — Nevins and Aizeki weave a memorial quilt to the hundreds of innocents in unmarked graves."
Richard Walker, Professor of Geography, UC Berkeley, and author of The Conquest of Bread and The Country and the City
"Dying to Live is a compelling, perceptive and invaluable book for our times. Our new apartheid, as explored here, is as bleak and hostile as the landscapes in which people lose their lives trying merely to survive. Those lives delineated here are unforgettable."
Susan Straight, author of A Million Nightingales and Highwire Moon
"Invisible in life, like most exploited immigrants, Julio Cesar Gallegos now judges us from the hour of his terrible death. He reminds us — thanks to the passionate investigations of Nevins and Aizeki -— that the eyeless corpses in the Imperial Valley are murder victims: abandoned to heat, thirst, and anonymous graves by a border politics compounded of historical ignorance and contempt for human rights."
Mike Davis, author of author of A Planet of Slums and In Praise of Barbarians
ABOUT THE AUTHORS:
Joseph Nevins is an associate professor of geography at Vassar College, and the author of A Not-so-distant Horror: Mass Violence in East Timor, and Operation Gatekeeper: The Rise of the "Illegal Alien" and the Making of the U.S.-Mexico Boundary.
Mizue Aizeki is a documentary photographer and activist on issues of workers rights and immigrant detention and deportation.
RIGHTS INFORMATION:
Please contact subagents for the following languages and territories:
For all other languages/territories, please contact Roam Agency.