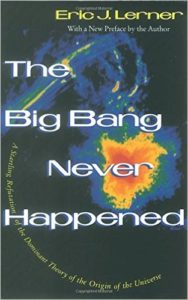 THE BIG BANG NEVER HAPPENED
A Startling Refutation of the Dominant Theory of the Origin of the Universe
Eric J. Lerner
with a new preface by the author
Vintage (October 1992), reprint ed.
Paper • ISBN 9780679740490 • US $19.95 • 496 pages
ABOUT THE BOOK:
A mesmerizing challenge to orthodox cosmology with powerful implications not only for cosmology itself but also for our notions of time, God, and human nature — with a new Preface addressing the latest developments in the field.
Far-ranging and provocative, The Big Bang Never Happened is more than a critique of one of the primary theories of astronomy — that the universe appeared out of nothingness in a single cataclysmic explosion ten to twenty billion years ago. Drawing on new discoveries in particle physics and thermodynamics as well as on readings in history and philosophy, Eric J. Lerner confronts the values behind the Big Bang theory: the belief that mathematical formulae are superior to empirical observation; that the universe is finite and decaying; and that it could only come into being through some outside force. With inspiring boldness and scientific rigor, he offers a brilliantly orchestrated argument that generates explosive intellectual debate.
PRAISE:
"Lerner does a fine job poking holes in Big Bang thinking and provides a historical perspective as well, linking scientific theories to trends in philosophy, politics, religion and even economics…a most readable book."
Chicago Tribune 
"From Steven Weinberg's The First Three Minutes to Stephen Hawking's A Brief History of Time, numerous science popularizations have expounded the Big Bang Theory for the origin of the universe as indisputable fact. Readers of those books will find this one startling and intriguing. Lerner, a plasma physicist, points out flaws in the Big Bang model and proposes an alternative theory: an eternal, self-sustaining "plasma" universe where electromagnetic fields within conducting gases provide other, simpler explanations for observed phenomena. His contention that the Big Bang is merely a repackaged creation myth is presumptuous, but well argued. To present a current scientific controversy to a general audience risks, on one hand, misleading the public and, on the other, circumventing the peer review process. This book, however, makes valid points in a convincing manner and does neither."
Gregg Sapp, Library Journal 
"Plasma physicist Lerner opens one of science's inner rooms to a popular audience in this headline-making history of time, space and the humanistic sociology of science."
Publishers Weekly
ABOUT THE AUTHOR:
Eric J. Lerner is a scientist, president of Lawrenceville Plasma Physics, Inc., and an author of numerous works of popular science and peer-reviewed scientific papers.
RIGHTS INFORMATION:
For all languages and territories, please contact Taryn Fagerness at Taryn Fagerness Agency.
See here for a list of Taryn Fagerness's foreign subagents.