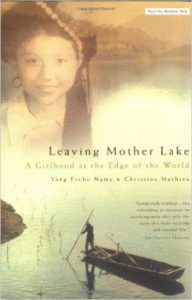 LEAVING MOTHER LAKE
A Girlhood at the End of the World

Yang Erche Namu and Christine Mathieu
Hachette (September 2007)
Paper • ISBN-13: 9780316735490 • US $13.67 • 320 pages
ABOUT THE BOOK:
This widely acclaimed memoir transports us to the remote reaches of the Himalayas, to a place the Chinese call "the country of daughters," to the home of the Moso, a society in which women rule. According to local tradition, marriage is considered a foreign practice; property is passed from mother to daughter; a matriarch oversees each family's customs, rituals, and economies. In this culture a young girl enjoys extraordinary freedoms—but the impulsive, restless Namu is driven to leave her mother's house, to venture ut into the larger world, defying the tradition that holds Moso culture together.
Leaving Mother Lake is a book filled with drama, strangeness, and beauty. Yet Namu's story is a universal tale of mothers and daughters—the battles that drive them apart and the love that brings them back together.
PRAISE:
"I find this book beautiful, the Moso people inspiring, and Yang Erche Namu's own spirit refreshing, to say the least."
Alice Walker
"Gorgeously crafted. . . . It's refreshing to discover an autobiography that tells the story of a truly exciting and unusual life."
San Francisco Chronicle
"Haunting. . . . In many ways, Leaving Mother Lake is a fairy tale in which a girl from nowhere becomes a star. But it is also a historical document of a unique time and place and the universal tale of a mother's fierce love and a daughter's attempt to straddle two worlds."
Jill Wolfson, San Jose Mercury News
"With the help of anthropologist Mathieu, singer Namu describes growing up on the Chinese-Tibetan border in Moso country, 'the Country of the Daughters.'… [Namu] sheds light on the unique matrilineal Moso culture, with its 'walking marriages,' where women take as many lovers as they want and the men continue to reside in their mothers' homes. The interweaving of the customs of this remote part of China-where "a man and a woman may sing to each other from the peaks of two mountains, but they will need to carry food for three days if they want to meet halfway"—with Namu's determination to have a worldly life despite her family's poverty and her own inability to read and write lend this tale poignancy. . . . [T]he book brims with vivid descriptions of a fascinating culture."
Publishers Weekly
"This memoir vividly conveys the bitter cold of mountain nights and strained relationships, along with the warmth of hearth, hospitality, and deep understanding. A fascinating glimpse at a unique culture and the melding of two worlds in a journey to adulthood."
School Library Journal
ABOUT THE AUTHORS:
Yang Erche Namu is a professional singer. She lives in Beijing and San Francisco.
Christine Mathieu completed her doctoral study on Moso culture and history. She divides her time between San Francisco and Australia.
RIGHTS INFORMATION:
For all languages and territories, please contact Taryn Fagerness at Taryn Fagerness Agency.
See here for a list of Taryn Fagerness's foreign subagents.