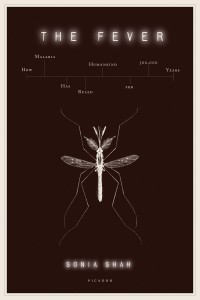 THE FEVER
How Malaria Has Ruled Humankind for 500,000 Years
Sonia Shah
Picador (June 2011)
Trade paper • ISBN-13: 9780312573010 • US $16 • 5 1/2 x 8 1/4 in • 320 pgs.
ABOUT THE BOOK:
In recent years, malaria has emerged as a cause célèbre for voguish philanthropists. Bill Gates, Bono, and Laura Bush are only a few of the personalities who have lent their names — and opened their pocketbooks — in hopes of stopping the disease. Still, in a time when every emergent disease inspires waves of panic, why aren't we doing more to tame one of our oldest foes? And how does a pathogen that we've known how to prevent for more than a century still infect 500 million people every year, killing nearly one million of them?
In The Fever, journalist Sonia Shah sets out to answer those questions, delivering a timely, inquisitive chronicle of the illness and its influence on human lives. Through the centuries, she finds, we've invested our hopes in a panoply of drugs and technologies, and invariably those hopes have been dashed. From the settling of the New World to the construction of the Panama Canal, through wartimes and the advances of the Industrial Revolution, Shah tracks malaria's jagged ascent and the tragedies in its wake, revealing a parasite every bit as persistent as the insects that carry it. With distinguished prose and original reporting from Panama, Malawi, Cameroon, India, and elsewhere, The Fever captures the curiously fascinating, devastating history of this long-standing thorn in the side of humanity.
For more on the history and effects of malaria, see Sonia Shah's TED lecture at:
http://www.ted.com/talks/sonia_shah_3_reasons_we_still_haven_t_gotten_rid_of_malaria.html
PRAISE:
"Sonia Shah's tour-de-force history of malaria will convince you that the real sound track to our collective fate [is] the syncopated whine-slap, whine-slap of man and mosquito duking it out over the aeons."
The New York Times
"An often rollicking read . . . Shah has put together an engrossing cast of doctors, malariologists, and historical figures."
Time Magazine
"An insightful book explores the human struggle with malaria not just from a scientific angle, which is cogently detailed without being overwhelming, but also from sociological and anthropological perspectives. . . . Shah is to be commended."
The Boston Globe
"Brilliant."
The Wall Street Journal
"The Fever is a vivid and compelling history with a message that's entirely relevant today."
Elizabeth Kolbert, author of Field Notes from a Catastrophe: Man, Nature, and Climate Change
"I didn't just read The Fever — I inhaled it. It's a fascinating book, elegantly written and superbly well researched: a poignant and important reminder of malaria's relentless human toll."
Nina Munk, author of Fools Rush In: Steve Case, Jerry Levin, and the Unmaking of AOL Time Warner
"A thrilling detective story, spanning centuries, about our erratic pursuit of a villain still at large and still a threat to mankind. The Fever is rich in colorful detail and engagingly told. An astonishing array of characters has joined the fray, and you can only be amazed at the deviousness and skill of the archenemy."
Malcolm Molyneux, Liverpool School of Tropical Medicine
"Extremely well-researched, The Fever provides a highly gripping account of one of mankind's worst diseases. Highly recommended."
Bart Knols, malariologist and managing director, MalariaWorld.org
ABOUT THE AUTHOR:
Sonia Shah is an investigative journalist and the critically acclaimed author of The Body Hunters: Testing New Drugs on the World's Poorest Patients and Crude: The Story of Oil. Her writing has appeared in The Washington Post, The Boston Globe, New Scientist, The Nation, and elsewhere.
RIGHTS INFORMATION:
Audio book:
Languages & Territories Where Rights Have Been Sold:
| Language/Territory | Publisher |
| --- | --- |
| Exclusive English language rights in US and territories, Canada, Republic of Philippines; non-exclusive rights in English language in all other parts of the world, except for:Ascension, Australia, Bangladesh, Botswana, British West Indies, Brunei, Burma, Cocos Island, Cyprus, Falkland Islands, Fiji, Gambia, Ghana, Gibraltar, India, Iraq, Irish Republic, Jamaica, Kenya, Kuwait, Lesotho, Malawi, Malaysia, Malta (including Gozo and Comino), Mauritius (including Rodriguez), Namibia, New Zealand (including Ross), Nigeria and the Cameroons, Pacific Islands, Pakistan, St Helena, Seychelles, Sierra Leone, Sikkim, Somali Republic, Sri Lanka, Swaziland, Tanzania, Tasmania, Trinidad and Tobago, Tristan de Cunha, Uganda, United Kingdom (including Northern Ireland, the Isle of Man, and Channel Islands), Zambia, Zimbabwe | Farrar, Straus & Giroux |
| English/Australia and New Zealand | Allen & Unwin |
| English/India | Penguin Books India |
| Japanese/worldwide | Ohta Publishing |
Please contact subagents for the following languages and territories:
For all other languages/territories, please contact Roam Agency.