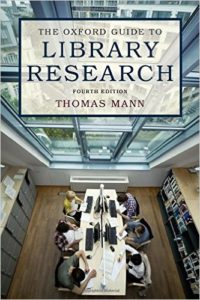 THE OXFORD GUIDE TO LIBRARY RESEARCH
Fourth Edition
Thomas Mann 
A CHOICE Top 25 Outstanding Academic Title for 2015
Oxford University Press (March 2015)
Paper • ISBN 9780199931064 • US $24.95 • 392 pgs.
ABOUT THE BOOK:
Provides a systematic overview of the best sources, both electronic and print, that go far beyond the coverage of Google and Wikipedia
Demonstrates why brick-and-mortar research libraries are more important than ever
Teaches, with multiple concrete examples, how to find the best search terms to use in searching databases
New to this Edition:
Explains in greater detail six important differences between the thousands of specialized subject encyclopedias that exist and Wikipedia, and provides an updated sample listing of the former
Discusses in detail scores of major subscription databases that did not exist in 2005, or whose earlier versions were not discussed
Provides the best explanations of how to find the right search terms for any inquiry
Provides the only current discussion of the essential differences between keyword relevance ranking (as in Google) vs. conceptual categorization (as in library catalogs)
Provides new instructions (and examples) on how to zero in immediately on literature review articles
Provides additional examples of what can be found via published bibliographies that cannot be found via online sources
Provides expanded coverage of sources for statistical information
Lists free websites that reference librarians find to be particularly useful
PRAISE: 
"A masterful summary of the main techniques and resources for conducting 'serious' research at postgraduate level and above."
Reference Reviews
ABOUT THE AUTHOR:
Thomas Mann has been a general reference librarian in the Main Reading Room of the Library of Congress for more than thirty years.
RIGHTS INFORMATION:
For all languages and territories, please contact Taryn Fagerness at Taryn Fagerness Agency.
See here for a list of Taryn Fagerness's foreign subagents.