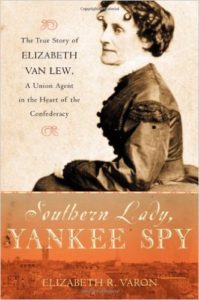 SOUTHERN LADY, YANKEE SPY
The True Story of Elizabeth Van Lew, a Union Agent in the Heart of the Confederacy
Elizabeth R. Varon
Named one of the Top 5 Books on the South for 2003 by the Raleigh News & Observer
Named one of the Best Books of 2003 by the Richmond Times-Dispatch

Winner of the Richard Slatten Award for Excellence in Virginia Biography given by the Virginia Historical Society

Winner of the "People's Choice Award" sponsored by the James River Writers Festival and Library of Virginia 
Oxford University Press (March 2005)
Paper • ISBN: 9780195179897 • US $19.99 • 336 pages
ABOUT THE BOOK:
Northern sympathizer in the Confederate capital, daring spymaster, postwar politician: Elizabeth Van Lew was one of the most remarkable figures in American history, a woman who defied the conventions of the nineteenth-century South. In Southern Lady, Yankee Spy, historian Elizabeth Varon provides a gripping, richly researched account of the woman who led what one historian called "the most productive espionage operation of the Civil War." Under the nose of the Confederate government, Van Lew ran a spy ring that gathered intelligence, hampered the Southern war effort, and helped scores of Union soldiers to escape from Richmond prisons.
Varon describes a woman who was very much a product of her time and place, yet continually took controversial stands—from her early efforts to free her family's slaves, to her daring wartime activities and beyond. Varon's powerful biography brings Van Lew to life, showing how she used the stereotypes of the day to confound Confederate authorities (who suspected her, but could not believe a proper Southern lady could be a spy), even as she brought together Union sympathizers at all levels of society, from slaves to slaveholders. After the war, a grateful President Ulysses S. Grant named her postmaster of Richmond—a remarkable break with custom for this politically influential post. But her Unionism, Republican politics, and outspoken support of racial justice earned her a lifetime of scorn in the former Confederate capital. Even today, Elizabeth Van Lew remains a controversial figure in her beloved Richmond, remembered as the "Crazy Bet" of Lost Cause propaganda.
Elizabeth Varon's account rescues her from both derision and oblivion, depicting an intelligent, resourceful, highly principled woman who remained, as she saw it, true to her country to the end.
PRAISE:
"An accomplished and engaging biography of a remarkably resourceful and determined woman, whose story shed considerable light on the role of southern Unionism in undermining the Confederate war effort, military and otherwise, and on the women who embodied and actively sustained that cause."
Civil War History
"A thrilling detective story filled with clandestine meetings, cloak-and-dagger intrigue, disguises, surveillance and undercover work. While such well-known Civil War women spies as Belle Boyd and Rose O'Neal Greenhow remain shrouded in partisan mythology, Varon has unearthed hard evidence that establishes Van Lew as a genuine heroine of the Civil War era."
Raleigh News & Observer
"A rich account of a complex and important figure in wartime Richmond…. Highly readable."
Civil War Book Review
"Groundbreaking and altogether remarkable…. as accessible to the lay reader as a novel.
Publishers Weekly (starred review)
"This is a wonderfully readable and engaging book. Varon brings Van Lew out of the realm of myth and into the much more interesting domain of history, offering us a woman who as spy, abolitionist and woman's rights advocate was at once larger than life and at the center of her time."
Drew Gilpin Faust, President of Harvard University and author of Mothers of Invention: Women of the Slaveholding South in the American Civil War and This Republic of Suffering: Death and the American Civil War
"Detailed, astute and convincing."
Jonathan Yardley, The Washington Post
ABOUT THE AUTHOR:
Elizabeth R. Varon is the Langbourne M. Williams Professor of American History and Associate Director of the John L. Nau III Center for Civil War History at the University of Virginia. She is the author of many books.
RIGHTS INFORMATION:  
For all languages and territories, please contact Taryn Fagerness at Taryn Fagerness Agency.
See here for a list of Taryn Fagerness's foreign subagents.