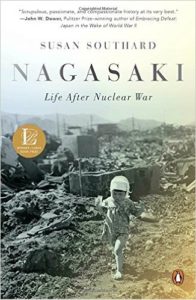 NAGASAKI
Life After Nuclear War
Susan Southard
Winner of the J. Anthony Lukas Book Prize and the Dayton Literary Peace Prize
Finalist for the Ridenhour Book Prize • Chautauqua Prize • William Saroyan International Prize for Writing • PEN Center USA Literary Award
Named one of the best books of the year by: The Economist • The Washington Post • American Library Association • Kirkus Reviews 
Penguin (August 2016)
Paper • ISBN-13: 9780143109426 • US $17.00 • 416 pages
ABOUT THE BOOK:
A powerful and unflinching account of the enduring impact of nuclear war, told through the stories of those who survived.
On August 9, 1945, three days after the atomic bombing of Hiroshima, the United States dropped a second atomic bomb on Nagasaki, a small port city on Japan's southernmost island. An estimated 74,000 people died within the first five months, and another 75,000 were injured.
Published on the seventieth anniversary of the bombing, Nagasaki takes readers from the morning of the bombing to the city today, telling the first-hand experiences of five survivors, all of whom were teenagers at the time of the devastation. Susan Southard has spent years interviewing hibakusha ("bomb-affected people") and researching the physical, emotional, and social challenges of post-atomic life. She weaves together dramatic eyewitness accounts with searing analysis of the policies of censorship and denial that colored much of what was reported about the bombing both in the United States and Japan.
A gripping narrative of human resilience, Nagasaki will help shape public discussion and debate over one of the most controversial wartime acts in history.
PRAISE:
"A poignant and complex picture of the second atomic bomb's enduring physical and psychological tolls. Eyewitness accounts are visceral and haunting. . . . But the book's biggest achievement is its treatment of the aftershocks in the decades since 1945."
The New Yorker
"Nagasaki illuminates an absence in our own history. Far beyond a reductionist argument about whether to use nuclear weapons, this is a profound inquiry into the extremes of human violence and what it does to both victim and victimizer. It is essential reading in our hyper-violent time."
Ruben Martinez, finalist judge, 2016 Dayton Literary Peace Prize
"Scrupulous, passionate, and compassionate history at its very best."
John W. Dower, Pulitzer Prize winning author of Embracing Defeat: Japan in the Wake of World War II
"Magnificent and necessary… Reading [Nagasaki] is a powerful way to engage with the moral conundrums surrounding our country's use of atomic weapons…. Let us hope that many will read this important book."
Los Angeles Times
 
"Nagasaki is a devastating read that highlights man's capacity to wreak destruction, but in which one also catches a glimpse of all that is best about people."
San Francisco Chronicle
 
"An intimate chronicle of individual lives: like a good documentary film-maker, Southard allows her subjects, with all their attractive and quirky qualities, to speak for themselves."
Financial Times
"Thoughtful and deeply affecting…A damning indictment of nuclear weapons and an inspiring reminder that some people prevail, even in the face of impossible odds."
The Christian Science Monitor
"Southard's vivid stories of five Nagasaki survivors powerfully illustrates the second atomic bombing and seventy years of life in the nuclear age. This book is the most extraordinary account ever written by an American author."
Dr. Tomonaga Masao, former Director of the Nagasaki Atomic Bomb Hospital
"[Nagasaki] provides the material and personal stories of one of the darkest days in human history…. One of the definitive histories of the end of World War II. Essential."
Library Journal, starred review
"The merits of Southard's book are clear. It was bad enough for the Americans to have killed so many people, and then hide the gruesome facts for many years after the war. To forget about the massacre now would be an added insult to the victims. Southard has helped to make sure this will not happen yet."
New York Times Book Review
 
"American politicians debating the nuclear deal with Iran would do well to spend some time with Southard's Nagasaki. It does not tell us what to do. It only reminds us of the stakes."
Washington Post 
 
"Southard performs a great service in rescuing their stories from extinction. Seventy years on, as our memories fade, this book horrifyingly and sometimes beautifully brings the events and their aftermath alive again—and forces us to reexamine the supposed rationale for inflicting such misery."
David Pilling, Asia Editor, Financial Times and author of Bending Adversity: Japan and the Art of Survival
 
"Grimly excellent…the grace and resilience of these survivors actually works to infuse the latter portions of her book with an air of the last thing readers might expect from a book of this kind: hope."
The National
 
"Southard offers valuable new information and context, and her work complements John Hersey's 1946 classic, Hiroshima."
Publishers Weekly
 
"Intense, deeply detailed, and compassionate account of the atomic bomb's effects on the people and city of Nagasaki, then and now…. A valiant, moving work of research certain to provoke vigorous discussion."
Kirkus, starred review
 
ABOUT THE AUTHOR:
Susan Southard holds an MFA in creative writing from Antioch University, Los Angeles, and was a nonfiction fellow at the Norman Mailer Center in Provincetown, Massachusetts. Southard's work has appeared in the New York Times, the Los Angeles Times, Politico, and Lapham's Quarterly. She has taught nonfiction classes at Arizona State University's Piper Writers Studio and the University of Georgia, and directed creative writing programs for incarcerated youth and at a federal prison for women outside Phoenix. Southard is the founder and artistic director of Essential Theatre.
RIGHTS INFORMATION:
For all languages and territories, please contact Taryn Fagerness at Taryn Fagerness Agency.
See here for a list of Taryn Fagerness's foreign subagents.