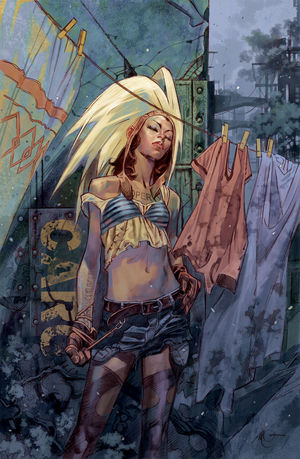 ORCHID
By Tom Morello
Artist: Scott Hepburn
Colorist: Dan Jackson
Cover Artist: Massimo Carnevale
Dark Horse (October 12, 2011, world rights)
For rights, contact Dark Horse (http://www.darkhorse.com/).
Comic book • ASIN: 9781608461738 • US $1 • 32 pgs.
ABOUT THE BOOK:
From Dark Horse Comics, Orchid is an epic fantasy story set in a dystopian future infused with Morello's worldview and the politics of street terrorism. Part Suicide Girl, part Joan of Arc – Orchid is the tale of a 16-year-old street prostitute who learns that she is more than the role society has imposed upon her.
When the seas rose, genetic codes were smashed. Human settlements are now ringed by a dense wilderness from which ferocious new animal species prey on the helpless. The high ground belongs to the rich and powerful that overlook swampland shantytowns from their fortress-like cities. Iron-fisted rule ensures order and allows the wealthy to harvest the poor as slaves.
Orchid features a variant cover by the well-known and influential street artist Shepard Fairey, with interior art by Scott Hepburn (Star Wars: Knights of the Old Republic). Orchid will be released over the course of twelve issues with the first issue on sale October 12, 2011. The series will eventually be collected into a graphic novel.
Morello has written a score for the series which will serve as a soundtrack to the story. Each song will be distributed as a free, downloadable track available with the purchase of each issue.
ABOUT THE AUTHOR:
Tom Morello, in addition to his career as a critically acclaimed solo artist, is a founding member and guitarist of the rock bands Rage Against The Machine and Audioslave. The two bands are responsible for multiple Grammy Awards and a combined 30 million albums sold worldwide.
Widely known for his unique voice as a master electric guitarist, his compositions as Tom Morello: The Nightwatchman have been primarily based around the acoustic guitar.
Recognized by Rolling Stone magazine as one of the "100 Greatest Guitar Players of All-Time (#26)," Morello is one of only two guitarists featured as a playable animated character in the overwhelmingly popular Activision video game Guitar Hero III: Legends of Rock.
As a producer, Morello has worked with The Crystal Method, Anti-Flag, Puff Daddy, and many more. He has also scored compositions for major motion pictures such as the 2008 hit Iron Man (in which he can also be seen as an actor), The Matrix, Collateral, Charlie's Angels, Talladega Nights, and XXX: State of the Union.
Tom Morello graduated from Harvard University with honors as a Political Science major and has been a widely recognized political activist throughout his career. In 2006, he was the recipient of the Eleanor Roosevelt Human Rights Award. Morello's family has been a constant source of political and social inspiration as his great-uncle, Jomo Kenyatta was the first president of Kenya, and his mother, Mary Morello, founded Parents for Rock and Rap, an anti-censorship counterweight to Tipper Gore's PMRC (Parents Music Resource Center). With System of A Down's Serj Tankian, Morello formed Axis of Justice, an organization whose purpose is to bring together musicians, music fans, and grassroots political organizations to fight for social justice and hosts its inspired radio show, The Axis of Justice Radio Network.
He lives in Los Angeles, California.